About the Rankings
The High School Football America 100, powered by NFL Play Football, uses a proprietary algorithm to rank the top teams in the nation and crown an unofficial national champion at the end of the season.
This is the ninth year that HSFA has used the algorithm to create its rankings.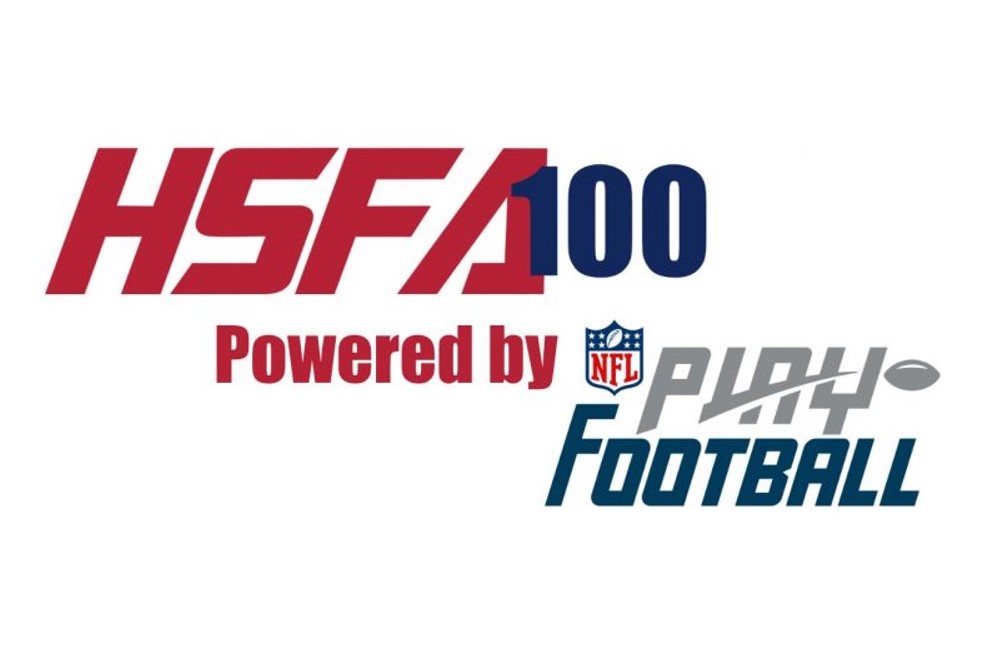 Current Rankings (Week 9)
October 18, 2021

Three top 25 teams — No. 14 Cathedral (Indiana), No. 15 St. Edward (Ohio), and No. 24 Denton Guyer (Texas) — suffered their first losses of the season in Week 9, scrambling the top of the High School Football America 100 powered by NFL Play Football.
Cathedral, the 2020 5A champion in Indiana, lost to No. 8 Center Grove (IN), the state's defending 6A champ. The 21-6 victory pushed Center Grove's win streak to 23 straight heading into the opening round of the postseason. Cathedral fell 15 spots to No. 29 in this week's rankings.
St. Edward entered the week having won seven of its last eight games by double digits, but slipped in overtime to No. 100 Archbishop Moeller (OH). St. Edward dropped 12 spots to No. 27, while Moeller climbed 36 spots to No. 64.
Denton Guyer's 38-31 upset at the hands of No. 63 Allen (TX) gave the Eagles the lead in Texas' District 5-6A. Allen ascended to No. 40, while Denton Guyer fell to No. 42.
St. Ignatius (Ohio) re-entered the Top 100 at No. 90 after surprising defending Division I champ St. Xavier, who fell four places to No. 35. And McCallie (Tennessee) broke into the HSFA 100 at No. 99.
Week 9 Rankings
| | | |
| --- | --- | --- |
| Rank/School/State | Record | Last Week |
| No. 1 Mater Dei (California) | (6-0) | 1 |
| No. 2 Westlake (Austin, Texas) | (7-0) | 2 |
| No. 3 Thompson (Alabama) | (9-0) | 3 |
| No. 4 St. John Bosco (California) | (7-1) | 4 |
| No. 5 IMG Academy (Florida) | (6-0) | 5 |
| No. 6 Southlake Carroll (Texas)  | (7-0) | 6 |
| No. 7 Katy (Texas) | (8-0) | 7 |
| No. 8 Center Grove (Indiana) | (8-0) | 8 |
| No. 9 Bergen Catholic (New Jersey) | (7-0) | 9 |
| No. 10 Oakland (Tennessee) | (9-0) | 10 |
| No. 11 Hoover (Alabama) | (9-0) | 11 |
| No. 12 Chandler (Arizona) | (6-0) | 12 |
| No. 13 Dutch Fork (South Carolina) | (7-0) | 13 |
| No. 14 Jesuit (Florida) | (7-0) | 16 |
| No. 15 St. Thomas Aquinas (Florida) | (7-1) | 17 |
| No. 16 Hamilton (Arizona) | (7-0) | 18 |
| No. 17 Bishop Gorman (Nevada) | (7-1) | 19 |
| No. 18 Collins Hill (Georgia) | (8-0) | 20 |
| No. 19 St. Frances Academy (Maryland) | (4-1)  | 21 |
| No. 20 Servite (California) | (8-0) | 22 |
| No. 21 Catholic (Baton Rouge, Louisiana) | (7-0) | 23 |
| No. 22 Miami Central (Florida) | (5-2) | 25 |
| No. 23 Venice (Florida) | (7-0) | 27 |
| No. 24 Bixby (Oklahoma) | (7-0) | 26 |
| No. 25 St. John's College HS (Washington, DC) | (6-0) | 28 |
| No. 26 Corona Centennial (California) | (8-0) | 29 |
| No. 27 St. Edward (Ohio) | (8-1) | 15 |
| No. 28 Chaminade-Madonna (Florida) | (5-1) | 30 |
| No. 29 Cathedral (Indiana) | (8-1) | 14 |
| No. 30 Northwestern (Miami, Florida) | (6-2) | 32 |
| No. 31 Buford (Georgia)  | (6-1) | 34 |
| No. 32 North Cobb (Georgia) | (6-1) | 35 |
| No. 33 Duncanville (Texas) | (5-1) | 36 |
| No. 34 Milton (Georgia) | (6-1) | 38 |
| No. 35 St. Xavier (Ohio) | (7-2) | 31 |
| No. 36 Jenks (Oklahoma) | (6-1) | 37 |
| No. 37 Male (Kentucky) | (7-0) | 39 |
| No. 38 Hough (North Carolina) | (8-0) | 43 |
| No. 39 Seminole (Sanford, Florida) | (7-1) | 42 |
| No. 40 Allen (Texas) | (6-1) | 63 |
| No. 41 Cocoa (Florida) | (5-1) | 45 |
| No. 42 Denton Guyer (Texas) | (7-1) | 24 |
| No. 43 Denton Ryan (Texas) | (6-1) | 33 |
| No. 44 Edna Karr (Louisiana) | (5-0) | 46 |
| No. 45 Atascocita (Texas) | (7-1) | 59 |
| No. 46 Highland Park (Texas) | (6-1) | 44 |
| No. 47 Cardinal Gibbons (Florida) | (5-2) | 41 |
| No. 48 Aledo (Texas) | (7-0) | 47 |
| No. 49 Chambers (North Carolina) | (7-1) | 48 |
| No. 50 Treasure Coast (Florida) | (5-1) | 49 |
| No. 51 Warner Robins (Georgia) | (6-1) | 40 |
| No. 52 Lee County (Georgia) | (7-1) | 50 |
| No. 53 East St. Louis (Illinois) | (7-1) | 51 |
| No. 54 Maryville (Tennessee) | (9-0) | 52 |
| No. 55 St. Francis (Mountain View, California) | (6-0) | 53 |
| No. 56 Edgewater (Florida) | (7-1) | 54 |
| No. 57 De La Salle (California) | (5-2) | 55 |
| No. 58 Westfield (Texas) | (7-0) | 56 |
| No. 59 Colquitt County (Georgia) | (7-1) | 57 |
| No. 60 Brother Martin (Louisiana) | (5-0) | 60 |
| No. 61 Cartersville (Georgia) | (8-0) | 61 |
| No. 62 Lake Travis (Texas) | (6-1) | 62 |
| No. 63 North Shore (Texas) | (7-1) | 64 |
| No. 64 Archbishop Moeller (Ohio) | (7-2) | 100 |
| No. 65 Euless Trinity (Texas) | (6-1) | 65 |
| No. 66 La Salle College HS (Pennsylvania) | (6-1) | 66 |
| No. 67 St. Joseph's Prep (Pennsylvania) | (4-2) | 67 |
| No. 68 American Heritage (Plantation, Florida) | (3-3) | 68 |
| No. 69 Jones (Orlando, Florida) | (5-2) | 70 |
| No. 70 Imhotep Charter (Pennsylvania) | (6-1) | 71 |
| No. 71 Arlington Martin (Texas) | (6-2) | 73 |
| No. 72 Greenville Christian (Mississippi) | (8-1) | 74 |
| No. 73 DeMatha (Maryland) | (6-1) | 75 |
| No. 74 Creekside (Georgia) | (6-1) | 72 |
| No. 75 Rockledge (Florida) | (7-0) | 76 |
| No. 76 Pickerington Central (Ohio) | (8-1) | 77 |
| No. 77 Bolles School (Florida) | (6-0) | 78 |
| No. 78 Good Counsel (Maryland) | (5-2) | 79 |
| No. 79 Springfield (Ohio) | (7-1) | 69 |
| No. 80 Lakota West (Ohio) | (8-1) | 81 |
| No. 81 Alcoa (Tennessee) | (7-1) | 80 |
| No. 82 Valor Christian (Colorado) | (8-0) | 82 |
| No. 83 Oak Grove (Mississippi) | (6-1) | 83 |
| No. 84 Loyola Academy (Illinois) | (8-0) | 87 |
| No. 85 Trinity Christian Academy (Jacksonville, Florida) | (6-2) | 84 |
| No. 86 Niceville (Florida) | (8-0) | 85 |
| No. 87 Carmel (Indiana) | (8-1) | 88 |
| No. 88 Martin Luther King (Detroit, Michigan) | (7-1) | 89 |
| No. 89 Mill Creek (Georgia) | (7-0) | 93 |
| No. 90 St. Ignatius (Ohio) | (5-4) | 102 |
| No. 91 Longview (Texas)  | (6-2) | 91 |
| No. 92 Christian Brothers College HS (Missouri) | (7-1) | 92 |
| No. 93 Santa Margarita (California) | (5-3) | 95 |
| No. 94 Corner Canyon (Utah) | (9-1) | 94 |
| No. 95 Los Alamitos (California) | (7-1) | 99 |
| No. 96 Rockwall-Heath (Texas) | (6-1) | 96 |
| No. 97 Bryant (Arkansas) | (6-1) | 97 |
| No. 98 Hewitt-Trussville (Alabama) | (7-2) | 98 |
| No. 99 McCallie (Tennessee) | (7-0) | 101 |
| No. 100 Cherry Creek (Colorado)  | (6-2) | 58 |
Past Rankings
Past HSFA National Champions
2012 – Allen (Texas) & John Curtis (Louisiana) co-champs (Opinion poll)
2013 – Allen (Texas)
2014 – Allen (Texas)
2015 – Colquitt County (Georgia)
2016 – Bishop Gorman (Nevada)
2017 – Mater Dei (California)
2018 – Mater Dei (California)
2019 – St. John Bosco (California)
2020 – IMG Academy (Florida)