About the Rankings
The High School Football America 100, powered by NFL Play Football, uses a proprietary algorithm to rank the top teams in the nation and crown an unofficial national champion at the end of the season.
This is the ninth year that HSFA has used the algorithm to create its rankings.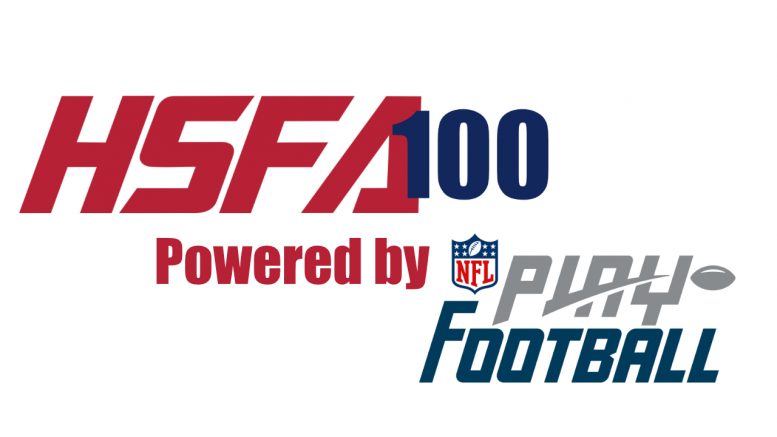 Final 2021 Rankings: Mater Dei Named HSFA National Champion
Updated December 20, 2021

For the third time in five years, Mater Dei (Santa Ana, California) is High School Football America's national champion.
The Monarchs, who are back on top after winning consecutive HSFA titles in 2017 and 2018, spent the entire 2021 season ranked No. 1 in the HSFA 100, powered by NFL Play Football.
Mater Dei's perfect 12-0 season was punctuated by 10 wins against teams ranked in the HSFA top 200 — No. 7 Servite (twice), No. 8 St. John Bosco, No. 9 Duncanville, No. 20 Corona Centennial, No. 81 Serra (San Mateo) No. 91 Orange Lutheran, No. 143 Norco, No. 144 Santa Margarita and No. 188 Liberty.
Right behind Mater Dei is three-time Texas high school football state champ Westlake. The Chaparrals wrapped-up a perfect 16-0 season Saturday night with a 40-21 win over No. 30 Denton Guyer for the Class 6A Division II title.
Like Mater Dei, Westlake never budged from their preseason No. 2 ranking. The Chaparrals' state title concluded the legendary coaching career of Todd Dodge, who retires with seven Texas high school football championships. Dodge leaves the game with a 40-game win streak.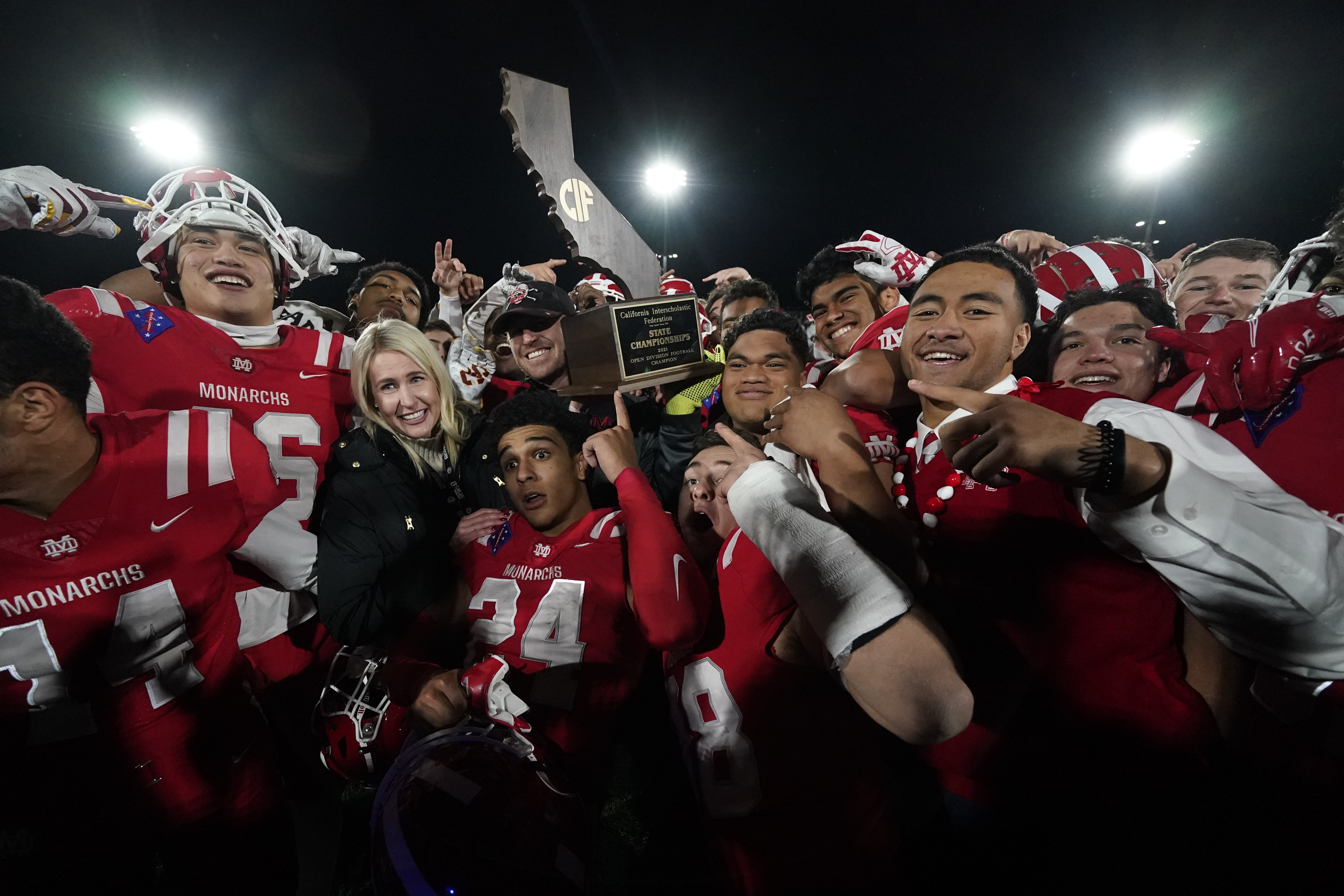 Bergen Catholic finishes No. 3 in our national rankings after capturing New Jersey's Non-Public A championship.
Fourth-ranked North Shore beat No. 9 Duncanville on Saturday night to win the school's third state title in the last four years in Texas' largest classification.
Florida 6A champ Jesuit finishes 2021 at No. 5. The Tigers, who started the year at the fringes of the HSFA 100, ended with a perfect 15-0 mark and won the school's first state title since 1968.
St. Thomas Aquinas, whose lone loss on the season came at the hands of Jesuit on Sept. 3, won its third straight Florida 7A championship on Friday and finishes the season ranked No. 6 in the HSFA 100.
Servite (No. 7) and St. John Bosco (No. 8) fall in behind St. Thomas Aquinas, followed by No. 9 Duncanville. Two-time Tennessee state champ Oakland rounds out the Top 10.
Florida had seven teams in the top 25 and 17 teams in the top 100, leading both categories. Texas placed three teams in the top 25 and 15 in the top 100. Four California teams placed in the top 25, and 10 ranked in the top 100. In all, 23 different states, plus the District of Columbia, are represented in the HSFA 100.
Final HSFA 100 for 2021
| | | |
| --- | --- | --- |
| Rank/School/State | Record | Presason Ranking |
| No. 1 Mater Dei (California) | (12-0) | 1 |
| No. 2 Westlake (Austin, Texas) | (16-0) | 2 |
| No. 3 Bergen Catholic (New Jersey) | (12-0) | 14 |
| No. 4 North Shore (Texas) | (15-1) | 20 |
| No. 5 Jesuit (Florida) | (14-0) | 96 |
| No. 6 St. Thomas Aquinas (Florida) | (14-1) | 4 |
| No. 7 Servite (California) | (10-3) | 55 |
| No. 8 St. John Bosco (California) | (10-2) | 7 |
| No. 9 Duncanville (Texas) | (13-2) | 16 |
| No. 10 Oakland (Tennessee) | (15-0) | 25 |
| No. 11 Center Grove (Indiana) | (14-0) | 11 |
| No. 12 St. Frances Academy (Maryland) | (8-1) | 33 |
| No. 13 IMG Academy (Florida) | (9-1) | 5 |
| No. 14 Thompson (Alabama) | (13-1) | 3 |
| No. 15 Bishop Gorman (Nevada) | (12-1) | 89 |
| No. 16 Miami Central (Florida) | (12-2) | 22 |
| No. 17 St. Edward (Ohio) | (15-1) | 51 |
| No. 18 Chaminade-Madonna (Florida) | (12-1) | 46 |
| No. 19 St. John's College HS (Washington, DC) | (11-0) | 80 |
| No. 20 Corona Centennial (California) | (11-1) | HM |
| No. 21 Buford (Georgia) | (14-1) | 49 |
| No. 22 Venice (Florida) | (14-1) | 91 |
| No. 23 Bixby (Oklahoma) | (13-0) | 52 |
| No. 24 Cardinal Gibbons (Florida) | (11-2) | 28 |
| No. 25 Saguaro (Arizona) | (12-1) | 35 |
| No. 26 Collins Hill (Georgia) | (15-1) | 66 |
| No. 27 Cocoa (Florida) | (11-2) | 92 |
| No. 28 Cathedral (Indiana) | (14-1) | 37 |
| No. 29 Warner Robins (Georgia) | (14-1) | 68 |
| No. 30 Denton Guyer (Texas) | (14-2) | 76 |
| No. 31 Hoover (Alabama) | (12-1) | 36 |
| No. 32 Southlake Carroll (Texas) | (14-1) | 6 |
| No. 33 Jenks (Oklahoma) | (12-1) | 54 |
| No. 34 Cardinal Gibbons (North Carolina) | (14-2) | 175 |
| No. 35 Catholic (Baton Rouge, Louisiana) | (12-1) | 65 |
| No. 36 McCallie (Tennessee) | (13-0) | 152 |
| No. 37 Hamilton (Arizona) | (11-1) | 62 |
| No. 38 Gaffney (South Carolina) | (15-0) | 146 |
| No. 39 Katy (Texas) | (14-1) | 10 |
| No. 40 Chambers (North Carolina) | (14-2) | 26 |
| No. 41 Milton (Georgia) | (13-2) | 48 |
| No. 42 Hough (North Carolina) | (14-1) | 94 |
| No. 43 Chandler (Arizona) | (11-2) | 21 |
| No. 44 Martin Luther King (Detroit, Michigan) | (13-1) | 174 |
| No. 45 St. Xavier (Kentucky) | (14-1) | NR |
| No. 46 South Oak Cliff (Texas) | (15-1) | NR |
| No. 47 Apopka (Florida) | (12-3) | 161 |
| No. 48 Westfield (Texas) | (14-1) | HM |
| No. 49 Northwestern (Miami, Florida) | (10-4) | 32 |
| No. 50 Graham-Kapowsin (Washington) | (15-0) | NR |
| No. 51 Lipscomb Academy (Tennessee) | (13-1) | NR |
| No. 52 Bryant (Arkansas) | (13-1) | 39 |
| No. 53 Lake Travis (Texas) | (12-3) | 81 |
| No. 54 Dutch Fork (South Carolina) | (12-1) | 19 |
| No. 55 Male (Kentucky) | (13-1) | 79 |
| No. 56 Atascocita (Texas) | (11-3) | HM |
| No. 57 Jones (Orlando, Florida) | (11-3) | 73 |
| No. 58 Springfield (Ohio) | (13-2) | HM |
| No. 59 Allen (Texas) | (11-3) | 38 |
| No. 60 Treasure Coast (Florida) | (10-2) | HM |
| No. 61 American Heritage (Plantation, Florida) | (6-4) | 18 |
| No. 62 Mount Lebanon (Pennsylvania) | (15-0) | NR |
| No. 63 Zachary (Louisiana) | (15-0) | HM |
| No. 64 North Cobb (Georgia) | (10-2) | 110 |
| No. 65 Greenville Christian (Mississippi) | (12-1) | NR |
| No. 66 Christian Brothers College HS (Missouri) | (13-1) | 117 |
| No. 67 St. Joseph's Prep (Pennsylvania) | (11-3) | 9 |
| No. 68 Maryville (Tennessee) | (13-1) | 72 |
| No. 69 Alcoa (Tennessee) | (14-1) | 99 |
| No. 70 Cherry Creek (Colorado) | (12-2) | 97 |
| No. 71 Katy Paetow (Texas) | (15-1) | NR |
| No. 72 Buchholz (Florida) | (12-2) | HM |
| No. 73 DeSoto (Texas) | (10-3) | 53 |
| No. 74 Seminole (Sanford, Florida) | (11-2) | 71 |
| No. 75 Trinity Christian Academy (Jacksonville, Florida) | (10-4) | 45 |
| No. 76 College Station (Texas) | (15-1) | NR |
| No. 77 Tampa Bay Tech (Florida) | (14-1) | HM |
| No. 78 Archbishop Moeller (Ohio) | (11-4) | NR |
| No. 79 Good Counsel (Maryland) | (7-5) | 44 |
| No. 80 Lakota West (Ohio) | (12-2) | 70 |
| No. 81 Serra (San Mateo, California) | (11-2) | 145 |
| No. 82 Imhotep Charter (Pennsylvania) | (10-2) | NR |
| No. 83 St. Francis (Mountain View, California) | (11-1) | NR |
| No. 84 DeMatha (Maryland) | (7-3) | 30 |
| No. 85 Lone Peak (Utah) | (10-2) | 104 |
| No. 86 De La Salle (California) | (10-3) | 29 |
| No. 87 Valor Christian (Colorado) | (13-1) | 163 |
| No. 88 South Pointe (South Carolina) | (12-1) | NR |
| No. 89 Cathedral Catholic (San Diego, California) | (12-2) | 107 |
| No. 90 Lee County (Georgia) | (11-2) | 83 |
| No. 91 Orange Lutheran (California) | (10-5) | HM |
| No. 92 Pulaski Academy (Arkansas) | (13-1) | 122 |
| No. 93 Oscar Smith (Virginia) | (13-1) | 98 |
| No. 94 Winton Woods (Ohio) | (13-3) | 168 |
| No. 95 Central (Phenix City, Alabama) | (13-1) | HM |
| No. 96 Pickerington Central (Ohio) | (12-2) | 59 |
| No. 97 Euless Trinity (Texas) | (11-2) | 64 |
| No. 98 Los Alamitos (California) | (9-2) | HM |
| No. 99 Don Bosco Prep (New Jersey) | (8-5) | 123 |
| No. 100 Hewitt-Trussville (Alabama) | (9-3) | 41 |
Past Rankings
Past HSFA National Champions
2012 – Allen (Texas) & John Curtis (Louisiana) co-champs (Opinion poll)
2013 – Allen (Texas)
2014 – Allen (Texas)
2015 – Colquitt County (Georgia)
2016 – Bishop Gorman (Nevada)
2017 – Mater Dei (California)
2018 – Mater Dei (California)
2019 – St. John Bosco (California)
2020 – IMG Academy (Florida)
2021 – Mater Dei (California)