Hydration
Staying hydrated before, during and after play is key for a healthy child. Help make it a habit. Learn the symptoms of dehydration and discover best practices for when and how to properly hydrate.
Kids take longer to cool down during activity than adults. That's why hydration is important.
It's not just about how your child hydrates during a game — hydrating before and after play is just as key. To properly hydrate, have your child drink 16–24 ounces of water before activity, then have them consume an electrolyte-packed sports drink or water every 15–20 minutes throughout play. A post-activity snack of chocolate milk can help replenish lost nutrients.
Symptoms of dehydration include feeling faint, intense thirst, headaches, nausea, and breathing faster and deeper than normal.
LEARN IT
Dehydration Symptoms
Keep an eye out for these symptoms:
Feeling faint
Headache
Fever
Intense thirst
Not urinating for many hours
Nausea
Vomiting
Breathing faster or deeper than normal
Skin numbness or tingling
Muscle spasms
Extreme tiredness
TEACH IT
Make Hydration a Habit
Let your kids know that hydration is important. Help keep your child hydrated — get them in the habit of drinking fluids every 20 minutes during activity and after it ends.
DO IT
When and How to Hydrate
It's best practice to drink 16–24 fluid ounces of water 10–15 minutes before activity. During activity, hydrate with an electrolyte-packed sports drink or water every 15–20 minutes throughout play. After play wraps up, have your child drink chocolate milk to help replenish nutrients lost during exercise.
Symptoms of Dehydration and How to Treat Them
Click on the symptoms below to learn more. 
Symptoms: Becoming lightheaded or fainting during exercise.
Treatment: Lay your child down in a shaded area and raise their legs – this helps blood get back to the heart.
Symptoms: Feeling hot, tired, weak or dizzy while sweating profusely.
Treatment: Remove your child from activity and get them to a shaded, cool area. Lay them on the ground and raise their legs about 12 inches. Replenish lost fluids and use ice-wrapped towels to help them cool down.
Symptoms: Painful and localized cramps, usually visible; muscles feel hard.
Treatment: Re-hydrate with water and sports drinks. Use light stretching and ice massages on the cramped muscle to relieve cramping.
Nutrition
Eating right is just as important to being successful on the field as practicing plays and running routes. Check out these quick, simple nutrition tips to help keep your kids healthy, energized and to set them up for success.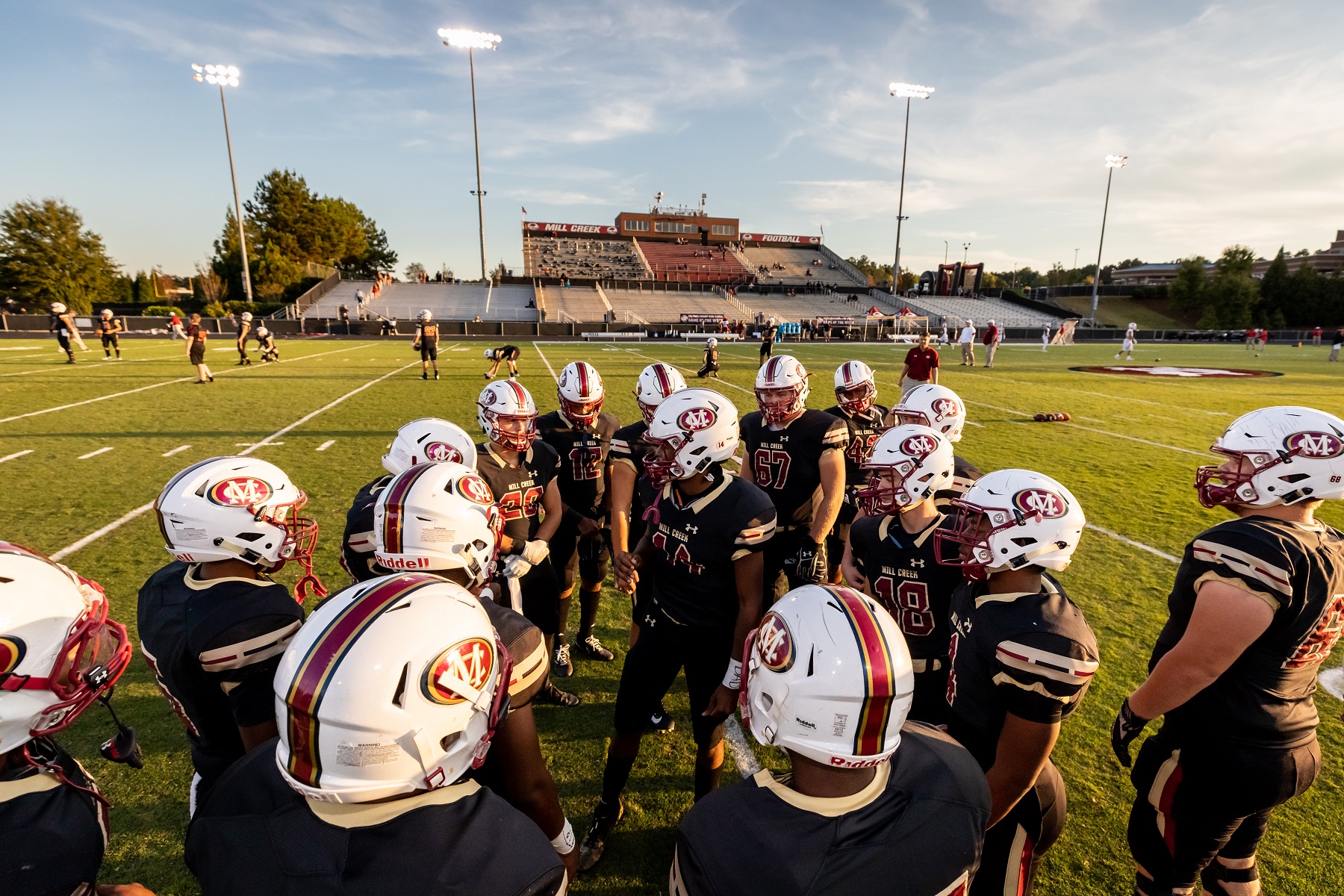 Fuel Up for Gameday
Help get your child ready for gameday with these simple nutrition tips.
STEP 1
Carb Up
In addition to hydrating, kids should eat a meal two to four hours before they take the field. Focus on foods high in protein, antioxidants (like blueberries or strawberries) and carbohydrates.
STEP 2
Bring Snacks
Plan ahead — bring a small, light snack or sports drink for your child to have 30–60 minutes before kickoff.
Snacks on the Sideline
Keep a few snacks on the sideline for halftime and breaks in the play. Here are a few easy options to help kids refuel:
Bananas
Dried fruit
Fig bars
Fruit rope
Granola bars
Foods to Avoid
 Eating right is key to a healthy child. These are a few types of food to avoid.
Fatty and fried foods: Greasy foods, like hamburgers and french fries, are difficult to digest and will sit in your child's stomach during play.
Protein shakes and bars: While protein plays an important role in your child's overall diet, they should not consume a large quantity right before a game.
Artificial sweeteners: These will stress your child's digestion and could lead to an upset stomach during a game.