Jim Harbaugh's Love of Football Started With His First Tackle
Welcome to Why We Play, a series of discussions with current players and NFL Legends about their youth football experience and why they play the game.
Jim Harbaugh's love of football started at his first football practice as a nine-year-old. 
Harbaugh was a star quarterback at the University of Michigan. He was drafted in the first round and had a 14-year NFL career, highlighted by a 1995 Pro Bowl appearance with the Indianapolis Colts and three playoff runs as a starter.
After his playing days were over, Harbaugh embarked upon a successful coaching career. He led his Stanford squads to national collegiate prominence. In four years with the San Francisco 49ers, Harbaugh had three playoff appearances, including a close loss to the Baltimore Ravens in Super Bowl XLVII. After the 2014 season, Harbaugh returned to Ann Arbor to coach his alma mater. 
Below, Harbaugh tells the story of his first practice with the Junior Packers in his own words.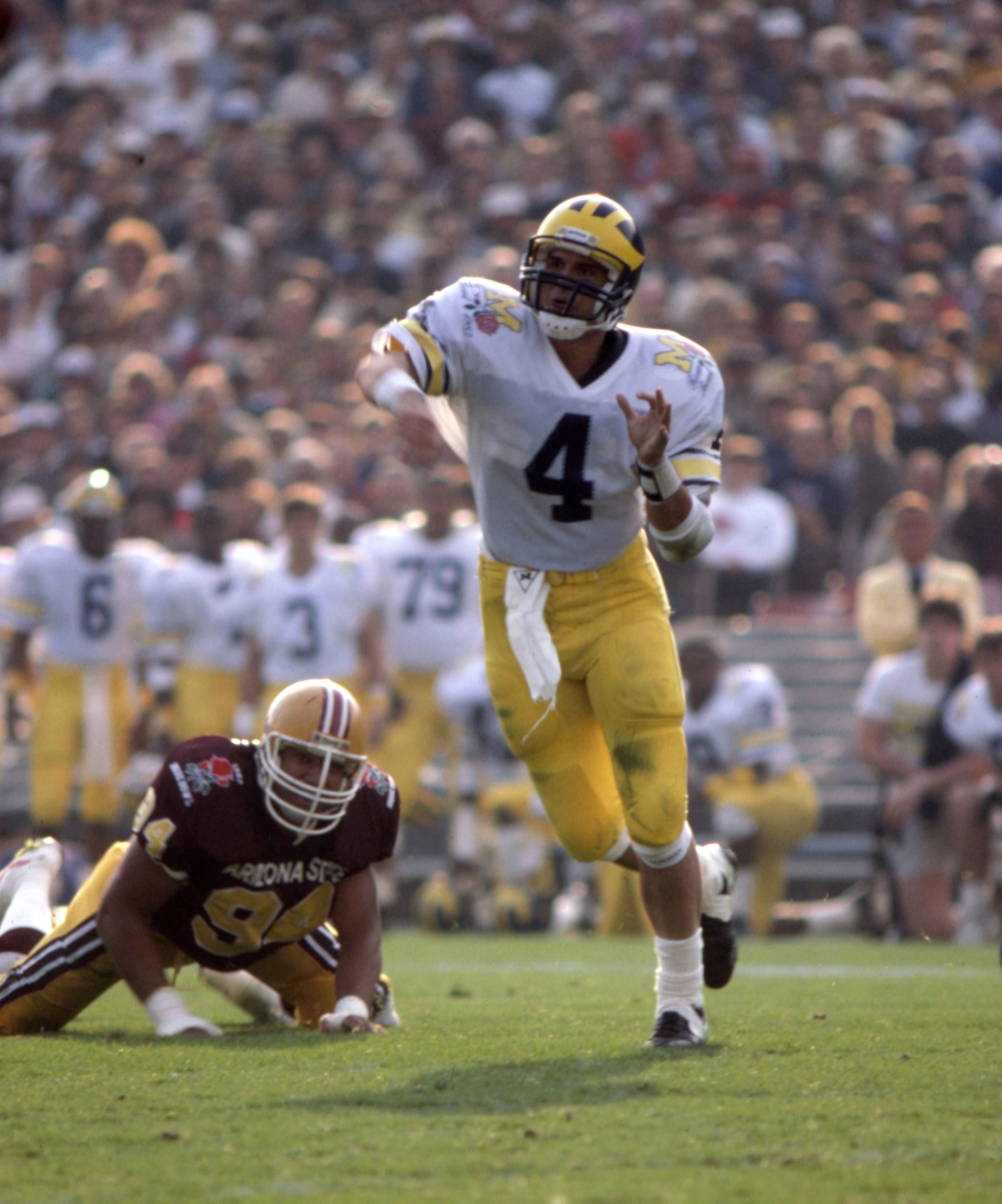 From Jim Harbaugh:
I put my uniform on the night before practice and stood in front of the mirror.
Jim Harbaugh, football player.
The next day, we had a tackling drill, where we put the two dummies down and there is a running line and a tackling line. I found myself seventh in the tackling line, so I did the first thing anyone would have done. You know what that is? You count and see who is seventh in the running line.
So I count. One-two-three-four-five-six-seven. And I think to myself, 'Please dear Lord, don't let that be Ralph seventh in the running line.'
I count again and it's still Ralph. At the time I'm about 89 pounds and Ralph was 130 pounds and about six-foot tall. And where most of us had two eyebrows, Ralph had one and a five-o'clock shadow. And I had to tackle him. 
Right about then I'm thinking, 'I'm pretty good at basketball, and I'm pretty darn good at baseball, not bad at hockey. I don't need to play football.'
On the other hand, my Dad bought me a $13 pair of shoes from Sears and Roebuck. He told me that only on one condition would he buy them — I had to play the whole season. If he caught me walking up Anderson Street before practice was over, I was gonna get a whupping, and I knew he would do it.
So I had to come up with something else. I'll just tell the coach I'm sick. And my stomach really did hurt. I don't know if it was butterflies, but I was feeling nauseous. Then, the guy right in front of me tried the same thing, and Coach Minick told him to get his ass back in line.
My dad and Tom Minick — those were two men I did not want to disappoint.
So here we go. I got into my tackling position, got across from Ralph. He looked like a bull pawing at the ground. There was white foam coming out of his mouth, like a dog frothing.
I said to myself, 'OK, remember what coach said. Feet apart, shoulder width apart, slight bend in my knees. When you hear that whistle take a step and make sure you get a foot in the ground, throw your arms in the air and wrap up.'
Next thing I knew, the whistle blew and I hit Ralph with everything I had. I felt his knee in my chest and he lifted me in the air. I lost all of my power to produce a tackling angle.
The back of my pads hit the ground, my head hit the ground, and he started to drag me. His legs were churning, his feet were churning, and I'm still holding on. And I don't know if he stepped in a hole, or fell over, or just got tired — but he went down.
I started checking body parts to make sure nothing was broken. I opened my eyes and I couldn't see anything. I was blind. I thought, 'This is how it ends right here on this field.'
Then I saw a circle of light. I realized I'm not blind. My helmet's turned sideways, and I'm looking through the hole in the side of my helmet. This is a true story, by the way. 
So I straightened my helmet out, got up, ran back, and everyone high-fived me. I made my first tackle. I made my first tackle! Right then I fell in love with football.
It was a monumental lesson in my life, and it lasted for the rest of my life. You're going to be scared of things, but just do it, get the courage, and do it.
Featured Photo: AP/Ben Margot
Tags
NFL Players and Legends
Youth Football