Jones High School is Nationally-Ranked Under the Guidance of Atlanta Falcons' Legend Elijah Williams
Former Atlanta Falcons' defensive back and kickoff returner Elijah Williams has his Jones High School Fightin' Tigers (Orlando, Florida) ranked No. 82 in the latest High School Football America 100 national rankings.
Williams, who became the Fightin' Tigers head coach in 2016 after a successful stint at Orlando's Oak Ridge High, took Jones to its first-ever state championship game in 2019, losing to powerful Miami Northwestern 34-17 in the 5A championship game last December. The Fightin' Tigers' 13-2 record landed them at No. 110 in the nation last season.
Jones is off to a 4-0 start after an exciting 42-41 win over Wekiva last Thursday. This coming Friday, the Fightin' Tigers will take-on Edgewater, which is currently ranked No. 52 in the latest national rankings.
Williams played high school football at Milton High School in Milton, Florida where he was an outstanding two-way starter at running back and defensive back, plus he was an explosive kick returner. During his senior season, Williams averaged over 10-yards per carry, rushing for 1,232 yards with 21 touchdowns. His performance landed him on the 1992 Scholastic Coach/Gatorade All-American Football Team and earned him a scholarship to the University of Florida.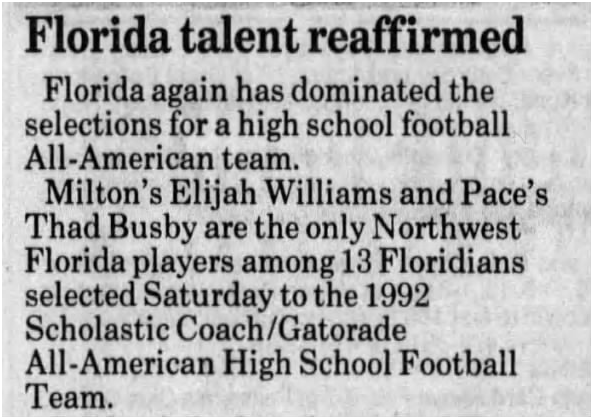 Williams named 1992 Florida Class 4A All-State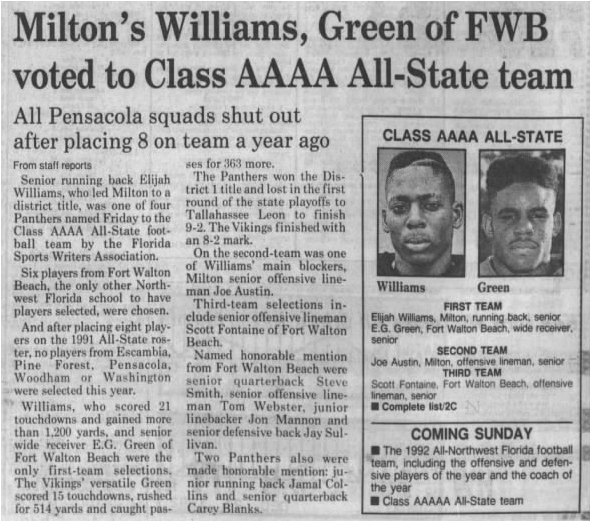 Elijah Williams as a Milton Panther running back in 1992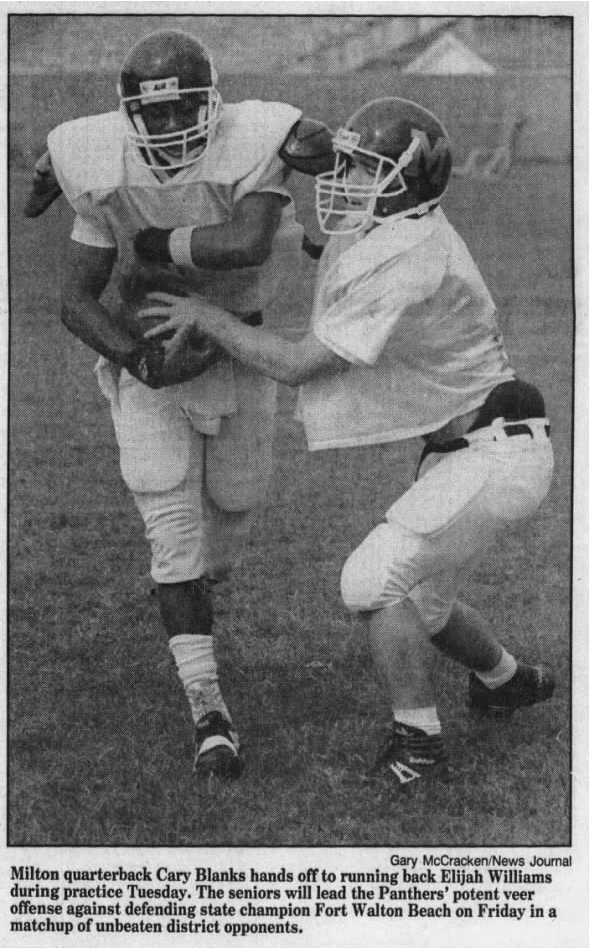 Williams' stepbrother is Greg Allen, who was a Florida State running back who was drafted in the second round by the Cleveland Browns in the 1985 NFL Draft.
Below is the High School Football America 100 through October 18, 2020. The rankings are created with High School Football America's proprietary algorithm that has been used to rank teams nationally, regionally and on a statewide basis since 2013.
High School Football America 100 Rankings
| | | | |
| --- | --- | --- | --- |
| Rank, Team, State | Record | Last Week | Head Coach |
| #1 North Shore (Houston, Texas) | (4-0) | 1 | Jon Kay |
| #2 IMG Academy (Florida) | (6-0) | 2 | Bobby Acosta |
| #3 Lowndes (Georgia) | (5-0) | 3 | Jamie Dubose |
| #4 St. Joseph's Prep (Pennsylvania) | (2-0) | 4 | Tim Roken |
| #5 St. Thomas Aquinas (Florida) | (1-0) | 5 | Roger Harriott |
| #6 Pickerington Central (Ohio) | (8-0) | 6 | Jay Sharrett |
| #7 Grayson (Georgia) | (6-0) | 7 | Adam Carter |
| #8 Thompson (Alabama) | (8-0) | 8 | Mark Freeman |
| #9 Westlake (Austin, Texas) | (2-0) | 9 | Todd Dodge |
| #10 St. Peter's Prep (New Jersey) | (3-0) | 10 | Rich Hansen |
| #11 Dutch Fork (South Carolina) | (4-0) | 11 | Tom Knotts |
| #12 Maryville (Tennessee) | (8-0) | 12 | Derek Hunt |
| #13 Katy (Texas) | (3-0) | 13 | Gary Joseph |
| #14 Archbishop Hoban (Ohio) | (7-0) | 14 | Tim Tyrrell |
| #15 Duncanville (Texas) | (1-1) | 15 | Reginald Samples |
| #16 Allen (Texas) | (2-0) | 16 | Terry Gambill |
| #17 Northwestern (Miami, Florida) | (0-0) | 17 | Max Edwards |
| #18 Archbishop Rummel (Louisiana) | (1-0) | 18 | Nick Monica |
| #19 Center Grove (Indiana) | (9-0) | 22 | Eric Moore |
| #20 Corner Canyon (Utah) | (10-0) | 23 | Eric Kjar |
| #21 Miami Central (Florida) | (0-0) | 21 | Roland Smith |
| #22 Trinity (Kentucky) | (4-0) | 24 | Bob Beatty |
| #23 Edna Karr (Louisiana) | (3-0) | 46 | Brice Brown |
| #24 Hoover (Alabama) | (9-0) | 28 | Josh Niblett |
| #25 Chandler (Arizona) | (3-0) | 30 | Rick Garretson |
| #26 Owasso (Oklahoma) | (6-0) | 31 | Bill Blankenship |
| #27 Denton Ryan (Texas) | (3-0) | 29 | Dave Henigan |
| #28 Cathedral (Indiana) | (8-1) | 25 | Bill Peebles |
| #29 DeSoto (Texas) | (2-0) | 35 | Claude Mathis |
| #30 North Allegheny (Pennsylvania) | (5-0) | 36 | Art Walker |
| #31 Colquitt County (Georgia) | (4-0) | 34 | Justin Rogers |
| #32 Massillon Washington (Ohio) | (6-1) | 33 | Nate Moore |
| #33 Bryant (Arkansas) | (6-0) | 37 | Buck James |
| #34 Brentwood Academy (Tennessee) | (8-0) | 38 | Cody White |
| #35 Mentor (Ohio) | (5-1) | 39 | Matt Gray |
| #36 Denton Guyer (Texas) | (2-1) | 40 | Rodney Webb |
| #37 Bergen Catholic (New Jersey) | (3-0) | 41 | Vito Campanile |
| #38 Highland Park (Texas) | (2-0) | 73 | Randy Allen |
| #39 St. Xavier (Ohio) | (6-2) | 42 | Steve Specht |
| #40 Brookwood (Georgia) | (6-0) | 43 | Philip Jones |
| #41 Venice (Florida) | (6-1) | 48 | John Peacock |
| #42 Lake Travis (Texas) | (3-0) | 44 | Hank Carter |
| #43 Saguaro (Arizona) | (2-0) | 49 | Jason Mohns |
| #44 Norcross (Georgia) | (6-0) | 50 | Keith Maloof |
| #45 La Salle (Ohio) | (5-2) | 52 | Pat McLaughlin |
| #46 Rockwall (Texas) | (3-1) | 20 | Trey Brooks |
| #47 Southlake Carroll (Texas) | (1-1) | 27 | Riley Dodge |
| #48 Trinity Christian Academy (Jacksonville, Florida) | (4-1) | HM | Verlon Dorminey |
| #49 American Heritage (Plantation, Florida) | (3-1) | 26 | Patrick Surtain, Sr. |
| #50 Cedar Hill (Texas) | (2-0) | 97 | Carlos Lyn |
| #51 Oakland (Tennessee) | (8-0) | 57 | Kevin Creasy |
| #52 Edgewater (Florida) | (2-1) | 45 | Cameron Duke |
| #53 Lakeland (Florida) | (3-1) | 53 | Bill Castle |
| #54 Prosper (Texas) | (2-0) | 54 | Brandon Schmidt |
| #55 Lakota West (Ohio) | (7-0) | 58 | Tom Bolden |
| #56 Parkview (Georgia) | (5-1) | 59 | Eric Godfree |
| #57 Chaminade-Madonna (Florida) | (3-1) | 56 | Dameon Jones |
|   #58 Hewitt-Trussville (Alabama) | (7-2) | 63 | Josh Floyd |
| #59 Bixby (Oklahoma) | (6-0) | 61 | Loren Montgomery |
| #60 Rockledge (Florida) | (4-0) | 62 | Wayne Younger |
| #61 De Smet (Missouri) | (2-0) | 66 | Robert Steeples |
| #62 Central Dauphin (Pennsylvania) | (5-0) | 64 | Glen McNamee |
| #63 Delbarton (New Jersey) | (3-0) | 119 | Brian Bowers |
| #64 Dublin Coffman (Ohio) | (8-0) | 67 | Mark Crabtree |
| #65 Don Bosco Prep (New Jersey) | (1-2) | 51 | Dan Sabella |
| #66 Bloomingdale (Florida) | (5-0) | 70 | Jake Coulson |
| #67 Aledo (Texas) | (2-1) | 32 | Tim Buchanan |
| #68 St. Joseph Regional (Montvale, New Jersey) | (1-2) | 55 | Dan Marangi |
| #69 Alcoa (Tennessee) | (7-1) | 69 | Gary Rankin |
| #70 Manvel (Texas) | (2-1) | 65 | Kevin Hall |
| #71 Cedar Grove (Georgia) | (3-0) | 71 | Miguel Patrick |
| #72 Hamilton (Arizona) | (2-0) | 72 | Mike Zdebski |
| #73 Palmetto (Miami, Florida) | (0-0) | 74 | Mike Manasco |
| #74 Toledo Central Catholic (Ohio) | (5-0) | 75 | Greg Dempsey |
| #75 Blessed Trinity (Georgia) | (2-0) | 76 | Tim McFarlin |
| #76 Davison (Michigan) | (5-0) | 77 | Jake Weingartz |
| #77 Auburn (Alabama) | (8-0) | 78 | Adam Winegarden |
| #78 Acadiana (Louisiana) | (3-0) | 79 | Matt McCullough |
| #79 Carmel (Indiana) | (7-2) | 80 | John Hebert |
| #80 Oxford (Alabama) | (7-1) | 81 | Bobby Wood |
| #81 Pine-Richland (Pennsylvania) | (5-0) | 82 | Eric Kasperowicz |
| #82 Jones (Orlando, Florida) | (4-0) | 84 | Elijah Williams |
| #83 North Little Rock (Arkansas) | (6-0) | 86 | J.R. Eldridge |
| #84 Cocoa (Florida) | (4-0) | 89 | Ryan Schneider |
| #85 John Curtis (Louisiana) | (1-2) | 83 | JT Curtis |
| #86 Covington Catholic (Kentucky) | (5-0) | 88 | Eddie Eviston |
| #87 Elder (Ohio) | (5-3) | 91 | Doug Ramsey |
| #88 Jenks (Oklahoma) | (6-1) | 94 | Keith Riggs |
| #89 Cardinal Gibbons (Florida) | (2-0) | 95 | Matt DuBuc |
| #90 Milton (Georgia) | (4-1) | 96 | Adam Clack |
| #91 St. Edward (Ohio) | (6-2) | 19 | Tom Lombardo |
| #92 Lee County (Georgia) | (5-1) | 98 | Dean Fabrizio |
| #93 Massillon Perry (Ohio) | (7-0) | 99 | Keith Wakefield |
| #94 St. Thomas More (Louisiana) | (3-0) | HM | Jim Hightower |
| #95 Lone Peak (Utah) | (9-1) | 93 | Bart Brockbank |
| #96 Gaffney (South Carolina) | (4-0) | 92 | Dan Jones |
| #97 Catholic (Baton Rouge, Louisiana) | (1-1) | 47 | Gabe Fertitta |
| #98 Atascocita (Texas) | (0-1) | 90 | Craig Stump |
| #99 Bridgeland (Texas) | (4-0) | 101 | David Raffield |
| #100 Dorman (South Carolina) | (1-1) | 100 | Dave Gutshall |