Marvin Lewis and Mike Zimmer to Coach 2024 Polynesian Bowl
The Polynesian Bowl, an annual high school football all-star game in Hawaii, will feature 100 of the nation's top seniors.
And in January, the head coaches of the game will give those players a taste of what it's like to play on Sundays. Former NFL head coaches Marvin Lewis and Mike Zimmer will be the head coaches for the 2024 Polynesian Bowl in January.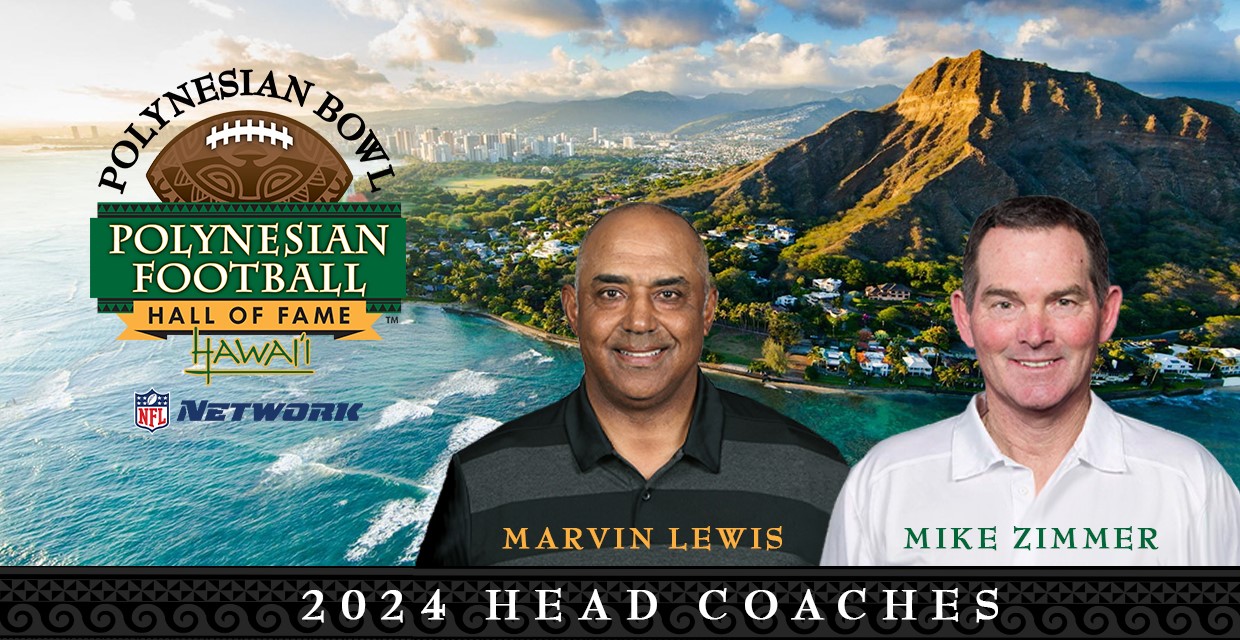 Lewis will serve as head coach for Team Mauka (Mountain). Lewis was the head coach of the Cincinnati Bengals for 16 seasons. He also served as defensive coordinator for the Baltimore Ravens from 1996 to 2001. In 2000, his defense set the record for the fewest points allowed in a season and helped carry the Ravens to their first Super Bowl victory in Super Bowl XXXV.
Lewis was named AP Coach of the Year in 2009. He currently serves as a special advisor to the head coach at Arizona State.
"I am honored to be selected as the head coach of Team Mauka," said Lewis. "Football unites people from all walks of life and it's a privilege to mentor and guide these young athletes on and off the field."
Zimmer will be head coach of Team Makai (Ocean). He served as the Head Coach of the Minnesota Vikings from 2014 to 2021. He also served as defensive coordinator for the Dallas Cowboys (2006), Atlanta Falcons (2007), and Cincinnati Bengals (2008-2013).
In 2017, Zimmer led the Vikings to a 13-3 record and one of the best seasons in franchise history. He won Super Bowl XXX as a defensive backs coach with the Cowboys and was named NFL Assistant Coach of the Year in 2009 with the Bengals.
"I am thrilled to be part of the Polynesian Bowl," said Zimmer. "It's incredible to witness the talent and passion these players bring to the game. Let's make it an unforgettable experience and a celebration of football and cultural excellence!"
The pair join an impressive list of former Polynesian Bowl head coaches with NFL experience.
Pro Football Hall of Famer Dick Vermeil coached in the second Polynesian Bowl 2018 against the late Terry Donahue, who served as the San Francisco 49ers General Manager and Director of Player Personnel.
Others NFL coaches or players who have coached in the Polynesian Bowl are June Jones (2017 & 2022), Steve Spurrier (2020), Doug Williams (2022) and Jim Zorn (2019).
The game will be broadcast live on NFL Network on Friday, January 19, 2024 at 9 PM Eastern Time.
Tags
NFL Players and Legends
High School Football
Coaching