NFL Legend Patrick Surtain, Sr. Leads Team to High School Football America 100 National Ranking
American Heritage (Plantation, Florida) climbs 24 spots to No. 18 in the latest High School Football America 100 national high school football rankings. The Patriots are coached by three-time Pro Bowler Patrick Surtain, Sr., who played for the Miami Dolphins and Kansas City Chiefs during his 11-year career.
Surtain took over as American Heritage's head football coach in 2016 after serving as assistant coach at the school under Mike Rumph, who was the San Francisco 49ers' first round pick in the 2002 NFL Draft. Since taking-over for his fellow cornerback, Surtain has led the Patriots to an overall record of 52-5 (including this year's 5-1 mark), winning Florida Class 5A titles in 2016 and 2017. All four of his teams have been ranked in the High School Football America national rankings, finishing No. 6 in 2017, No. 14 in 2016, No. 70 in 2018 and No. 74 last year.
Year-in and year-out, Surtain challenges his program by playing one of the toughest schedules in the nation. Already this season, the Patriots have been beaten four Florida teams in the High School Football American national rankings. They close-out the regular season this Friday, playing No. 22 St. Thomas Aquinas (Fort Lauderdale, Florida).
Surtain also enjoys national powers from around the nation. Since 2016, American Heritage has played Catholic (Virginia), Colquitt County (Georgia), Don Bosco Prep (New Jersey), Gonzaga (Washington, D.C.), Liberty (Nevada) and St. Joseph Regional (Montvale, New Jersey). The Patriots are 5-1 in those game with the only loss coming at the hands of Gonzaga last season.
Born and raised in New Orleans, Surtain played high school football at Edna Karr, one of Louisiana's powerful programs. He led the Cougars to the 1993 state championship game as a dual-threat quarterback, running for 784 yards with 12 touchdowns and passing for 753 yards with seven touchdowns.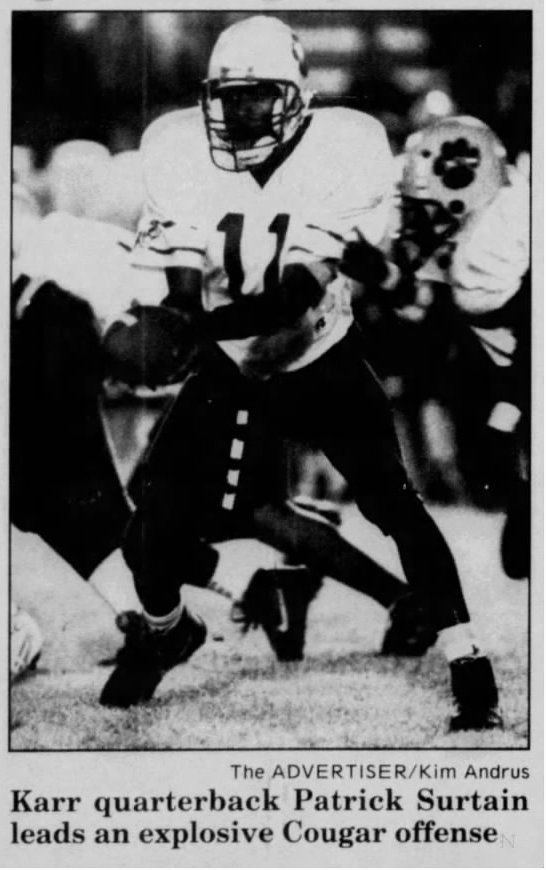 Karr beat Cecelia 13-10 in overtime to capture the school's first-ever high school football state championship in the very first year that the Cougars were eligible to play in the Louisiana High School Athletic Association state tournament. Surtain was at the heart of championship, leading Edna Karr back from a 10-0 deficit in the fourth quarter.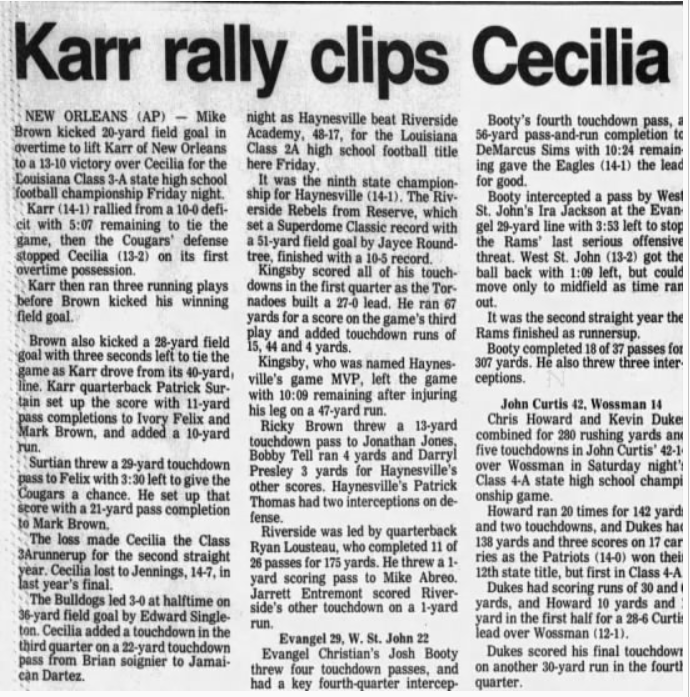 Below is the High School Football America 100 Rankings through November 1, 2020. The rankings are created with High School Football America's proprietary algorithm that has been used to rank teams nationally, regionally and on a statewide basis since 2013.
High School Football America 100 Rankings
| | | | |
| --- | --- | --- | --- |
| Rank, Team, State | Record | Last Week | Head Coach |
| #1 North Shore (Houston, Texas) | (6-0) | 1 | Jon Kay |
| #2 IMG Academy (Florida) | (7-0) | 2 | Bobby Acosta |
| #3 Lowndes (Georgia) | (6-0) | 3 | Jamie Dubose |
| #4 Thompson (Alabama) | (10-0) | 4 | Mark Freeman |
| #5 St. Joseph's Prep (Pennsylvania) | (3-0) | 5 | Tim Roken |
| #6 Pickerington Central (Ohio) | (10-0) | 6 | Jay Sharrett |
| #7 Grayson (Georgia) | (7-0) | 7 | Adam Carter |
| #8 St. Peter's Prep (New Jersey) | (4-0) | 9 | Rich Hansen |
| #9 Westlake (Austin, Texas) | (5-0) | 10 | Todd Dodge |
| #10 Dutch Fork (South Carolina) | (6-0) | 11 | Tom Knotts |
| #11 Katy (Texas) | (5-0) | 13 | Gary Joseph |
| #12 Archbishop Hoban (Ohio) | (8-0) | 14 | Tim Tyrrell |
| #13 Duncanville (Texas) | (3-1) | 16 | Reginald Samples |
| #14 Allen (Texas) | (3-0) | 17 | Terry Gambill |
| #15 Maryville (Tennessee) | (10-0) | 18 | Derek Hunt |
| #16 Center Grove (Indiana) | (10-0) | 19 | Eric Moore |
| #17 Corner Canyon (Utah) | (10-0) | 20 | Eric Kjar |
| #18 American Heritage (Plantation, Florida) | (5-1) | 42 | Patrick Surtain, Sr. |
| #19 Chandler (Arizona) | (5-0) | 24 | Rick Garretson |
| #20 Trinity (Kentucky) | (6-0) | 22 | Bob Beatty |
| #21 Cardinal Gibbons (Florida) | (3-1) | 12 | Matt DuBuc |
| #22 St. Thomas Aquinas (Florida) | (2-1) | 15 | Roger Harriott |
| #23 Owasso (Oklahoma) | (8-0) | 25 | Bill Blankenship |
| #24 Northwestern (Miami, Florida) | (1-1) | 8 | Max Edwards |
| #25 Cathedral (Indiana) | (9-1) | 27 | Bill Peebles |
| #26 Denton Ryan (Texas) | (5-0) | 26 | Dave Henigan |
| #27 Miami Central (Florida) | (1-1) | 21 | Roland Smith |
| #28 DeSoto (Texas) | (4-0) | 28 | Claude Mathis |
| #29 North Allegheny (Pennsylvania) | (6-0) | 29 | Art Walker |
| #30 Colquitt County (Georgia) | (5-0) | 30 | Justin Rogers |
| #31 Bryant (Arkansas) | (8-0) | 32 | Buck James |
| #32 Massillon Washington (Ohio) | (8-1) | 31 | Nate Moore |
| #33 Brentwood Academy (Tennessee) | (10-0) | 33 | Cody White |
| #34 Hoover (Alabama) | (9-1) | 34 | Josh Niblett |
| #35 Mentor (Ohio) | (9-1) | 35 | Matt Gray |
| #36 Trinity Christian Academy (Jacksonville, Florida) | (6-1) | 41 | Verlon Dorminey |
| #37 St. Xavier (Ohio) | (7-2) | 39 | Steve Specht |
| #38 Denton Guyer (Texas) | (4-1) | 36 | Rodney Webb |
| #39 Bergen Catholic (New Jersey) | (4-0) | 37 | Vito Campanile |
| #40 Highland Park (Texas) | (3-0) | 38 | Randy Allen |
| #41 Lake Travis (Texas) | (4-0) | 43 | Hank Carter |
| #42 Norcross (Georgia) | (8-0) | 44 | Keith Maloof |
| #43 La Salle (Ohio) | (7-2) | 45 | Pat McLaughlin |
| #44 Rockwall (Texas) | (5-1) | 46 | Trey Brooks |
| #45 Southlake Carroll (Texas) | (3-1) | 47 | Riley Dodge |
| #46 Bloomingdale (Florida) | (7-0) | 48 | Jake Coulson |
| #47 Cedar Hill (Texas) | (4-0) | 49 | Carlos Lyn |
| #48 Oakland (Tennessee) | (10-0) | 52 | Kevin Creasy |
| #49 Chaminade-Madonna (Florida) | (4-1) | 51 | Dameon Jones |
| #50  Acadiana (Louisiana) | (5-0) | 67 | Matt McCullough |
| #51 Jones (Orlando, Florida) | (5-0) | 54 | Elijah Williams |
| #52 Edna Karr (Louisiana) | (4-0) | 23 | Brice Brown |
| #53 Lakota West (Ohio) | (8-1) | 50 | Tom Bolden |
| #54 Hewitt-Trussville (Alabama) | (8-2) | 53 | Josh Floyd |
| #55 Delbarton (New Jersey) | (5-0) | 57 | Brian Bowers |
| #56 Bixby (Oklahoma) | (7-0) | 58 | Loren Montgomery |
| #57 Prosper (Texas) | (3-1) | 55 | Brandon Schmidt |
| #58 Rockledge (Florida) | (5-0) | 59 | Wayne Younger |
| #59 De Smet (Missouri) | (3-0) | 60 | Robert Steeples |
| #60 Hamilton (Arizona) | (4-0) | 62 | Mike Zdebski |
| #61 Saguaro (Arizona) | (3-1) | 64 | Jason Mohns |
| #62 Aledo (Texas) | (4-1) | 65 | Tim Buchanan |
| #63 Alcoa (Tennessee) | (9-1) | 69 | Gary Rankin |
| #64 Brother Martin (Louisiana) | (5-0) | 72 | Mark Bonis |
| #65 Oxford (Alabama) | (9-1) | 79 | Bobby Wood |
| #66 Don Bosco Prep (New Jersey) | (1-2) | 66 | Dan Sabella |
| #67 St. Joseph Regional (Montvale, New Jersey) | (2-2) | 68 | Dan Marangi |
| #68 Manvel (Texas) | (3-1) | 70 | Kevin Hall |
| #69 Cedar Grove (Georgia) | (4-0) | 71 | Miguel Patrick |
| #70 Davison (Michigan) | (7-0) | 75 | Jake Weingartz |
| #71 Palmetto (Miami, Florida) | (1-0) | 76 | Mike Manasco |
| #72 Archbishop Rummel (Louisiana) | (3-1) | 77 | Nick Monica |
| #73 Carmel (Indiana) | (8-2) | 78 | John Hebert |
| #74 Pine-Richland (Pennsylvania) | (7-0) | 80 | Eric Kasperowicz |
| #75 Blessed Trinity (Georgia) | (3-0) | 74 | Tim McFarlin |
| #76 Cocoa (Florida) | (6-0) | 82 | Ryan Schneider |
| #77 John Curtis (Louisiana) | (3-2) | 83 | JT Curtis |
| #78 Edgewater (Florida) | (2-2) | 84 | Cameron Duke |
| #79 Covington Catholic (Kentucky) | (7-0) | 85 | Eddie Eviston |
| #80 Jenks (Oklahoma) | (8-1) | 86 | Keith Riggs |
| #81 Milton (Georgia) | (5-1) | 87 | Adam Clack |
| #82 St. Thomas More (Louisiana) | (5-0) | 88 | Jim Hightower |
| #83 Lee County (Georgia) | (6-1) | 89 | Dean Fabrizio |
| #84 Massillon Perry (Ohio) | (9-0) | 90 | Keith Wakefield |
| #85 Atascocita (Texas) | (2-1) | 91 | Craig Stump |
| #86 Brookwood (Georgia) | (6-1) | 40 | Philip Jones |
| #87 Lone Peak (Utah) | (10-1) | 93 | Bart Brockbank |
| #88 Parkview (Georgia) | (5-2) | 56 | Eric Godfree |
| #89 Catholic (Baton Rouge, Louisiana) | (3-2) | 96 | Gabe Fertitta |
| #90 Bridgeland (Texas) | (6-0) | 98 | David Raffield |
| #91 Gaffney (South Carolina) | (4-0) | 99 | Dan Jones |
| #92 Dorman (South Carolina) | (3-1) | 100 | Dave Gutshall |
| #93 Zachary (Louisiana) | (4-0) | 101 | David Brewerton |
| #94 Mona Shores (Michigan) | (7-0) | 102 | Matt Koziak |
| #95 Elder (Ohio) | (5-4) | 92 | Doug Ramsey |
| #96 Belleville (Michigan) | (7-0) | 113 | Jermain Crowell |
| #97 Seminole (Sanford, Florida) | (7-0) | 104 | Eric Lodge |
| #98 St. Edward (Ohio) | (6-2) | 95 | Tom Lombardo |
| #99 Westfield (Indiana) | (9-1) | 111 | Kyle Simmons |
| #100 St. Augustine (Louisiana) | (2-1) | HM | Nick Foster |