NFL Legend Patrick Surtain Sr. Named High School Football America National Coach of the Year
NFL Legend Patrick Surtain Sr. is the 2020 High School Football America National Coach of the Year.
Surtain led American Heritage School in Plantation, Florida to its third state championship in five years as the school's head coach. The Patriots beat Rickards 24-6 in December to capture Florida's 5A championship.
Surtain, who spent 11 seasons in the NFL with the Miami Dolphins and Kansas City Chiefs, began his high school coaching career in 2013 at American Heritage as an assistant under fellow NFL cornerback and first round draft choice Mike Rumph. Surtain, a three-time Pro Bowl player during his career, was the school's defensive backs coach.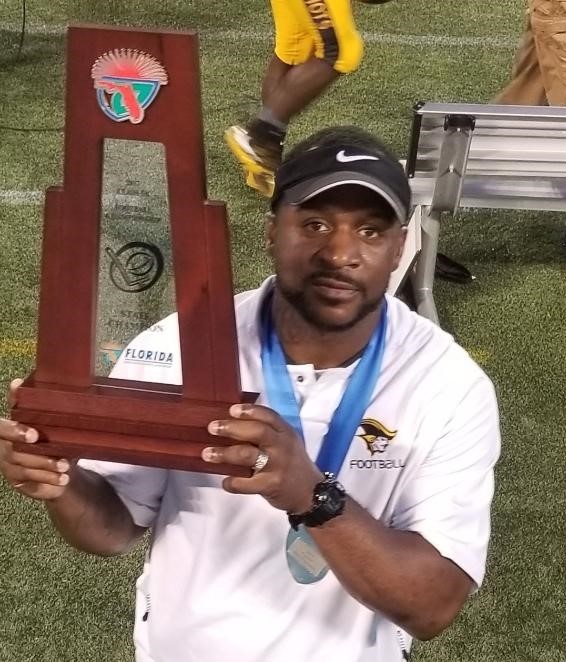 Since taking over the American Heritage program in 2016, Surtain has accumulated a 58-6 overall record, finishing each of his five seasons in the High School Football America national rankings. This past season, AH finished No. 20 in the nation.
Along with Surtain, American Heritage's staff has five other former NFL players — wide receiver Oronde Gadsden (Dallas Cowboys, Dolphins, Pittsburgh Steelers), linebacker Anthony Harris (Dolphins), defensive back Earl Little (Cleveland Browns, New England Patriots, New Orleans Saints), safety Daryl Porter (Buffalo Bills, Detroit Lions, Patriots, Tennessee Titans) and linebacker Van Waiters (Browns, Minnesota Vikings).
In high school, Surtain led Edna Karr High School in New Orleans, Louisiana to a state championship as the team's quarterback. During his NFL career, Surtain nabbed 39 interceptions, scored two defensive touchdowns and recorded 538 tackles.
It's been a momentous few months in the Surtain family. Weeks after Surtain won the Florida state title, his son, Patrick Surtain II, hoisted the College Football Playoff championship trophy as a member of the Alabama Crimson Tide. The younger Surtain, also a cornerback, is set to follow in his father's footsteps as a projected high pick in April's NFL Draft.
Below, you can watch and listen to Surtain talk with High School Football America's Jeff Fisher about winning the Coach of the Year award and the joy he gets from coaching players at the high school level.
Featured Photo: AP/Allen Kee
Tags
Coaching
High School Football
NFL Players and Legends