NFL Legend Trent Dilfer Will Coach for Tennessee High School State Championship
There are 32 different starting quarterbacks who have won Super Bowl rings, but none of them have accomplished what Trent Dilfer will try to do on December 3.
Dilfer, who led the Baltimore Ravens to a win over the New York Giants in Super Bowl XXXV, will try to become the first QB to win a Super Bowl ring as a starter and a high school football state championship as a head football coach.
Dilfer, who is his second year as head coach at Lipscomb Academy in Nashville, Tennessee, is preparing his team for the Tennessee Division II Class AA state championship game against Christ Presbyterian Academy (Nashville, Tennessee). Ironically, he will be matching wits with another former NFL quarterback, Ingle Martin, who played for the Denver Broncos, Green Bay Packers, Kansas City Chiefs and the Tennessee Titans and now coaches CPA.
Lipscomb punched its ticket to the state championship game Friday night with a 56-13 win over defending Division II-AA state champ Evangelical Christian School. The win avenged a 2019 state semifinal loss to ECA for Dilfer and his Mustangs.
The Mustangs will bring a 11-game win streak into the title game against CPA. Dilfer and Lipscomb started the season 0-2 with losses against two Class AAA teams. Lipscomb is currently ranked No. 8 in the High School Football America Tennessee Top 10 statewide rankings.
When Dilfer, who is a member of the NFL's Legends Youth Advisory Committee, took over the program, the Mustangs had only won a total of three games in 2017 and 2018. Last season, Lipscomb went 7-6 with a state semifinal appearance. The December 3 state championship appearance will be the first for the Mustangs since 2008.
Offensively, Dilfer has plenty of weapons. Under center, he's relied on junior quarterback Luther Richesson, who started as a sophomore. Richesson was 10-for-15 in the passing department in the semifinal win over ECA. He threw for 311 yards with three touchdowns.
After retiring from the NFL, Dilfer spent a lot of time helping high school quarterbacks at the high-profile Elite 11 quarterback competition.
Dilfer's offensive has plenty of balance led by junior running back Alex Broome, who was a semifinalist for the 2020 Tennessee Titans Mr. Football Awards. Earlier this month, Broome received his first Power 5 college scholarship opportunity when Michigan State offered him.
The state championship game will be a rematch of the October 23 battle between Lipscomb and CPA. Lipscomb won that contest 20-14, handing CPA its only loss of the year. In the regular season game, Broom scored two touchdowns, including one on a kickoff return. Richesson threw for a score.
The NFL Legends Youth Advisory Committee supports the development of youth and high school football initiatives. These Legends share their experiences and insights to help grow the game, stressing character, values, fundamentals, player protection and coaching.
Across the field, Martin has built CPA into a state power. This will be the sixth time that Martin has taken the Lions to the state finals, winning titles in 2014 and 2018. This season, Martin was named the Tennessee Titans Coach of the Week for Week 3.
Martin was an outstanding high school quarterback at Montgomery Bell Academy in Tennessee where he led MBA to three straight state championships with a 32-game win streak. His teams were nationally-ranked by USA TODAY in 1999 and 2000.
Dilfer played his high school football at Aptos High School in northern California where he was a quarterback, defensive back and punter. He still holds many of the school's passing records. He was All-League and All-County in football, basketball and golf.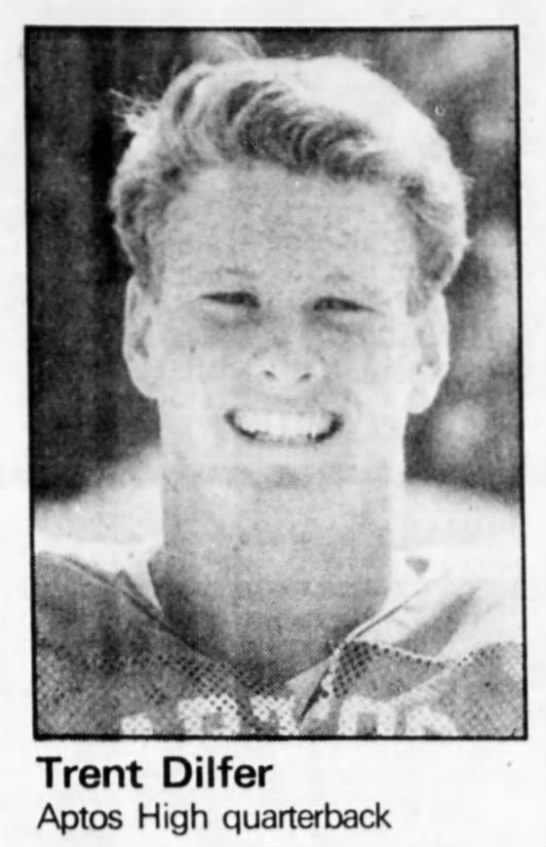 Dilfer played 14 seasons in the NFL with Tampa Bay, Baltimore, Seattle, Cleveland and San Francisco. He was the sixth overall pick in the 1994 NFL Draft by the Buccaneers out of Fresno State. He finished his career with 20,518 yards passing.
Tags
NFL Players and Legends
Coaching
High School Football