Pro Football Hall of Famer Kevin Mawae Steps In as Lipscomb Academy (TN) Head Coach
Lipscomb Academy in Nashville, Tennessee is maintaining its NFL pedigree at the helm of its football program.
Pro Football Hall of Fame center Kevin Mawae is the Mustangs' new head football coach, stepping in to fill the shoes of fellow NFL Legend Trent Dilfer.
Dilfer built Lipscomb into a Tennessee powerhouse during his four-year tenure. The Super Bowl-winning quarterback won two straight Tennessee Division II-AA state titles with Lipscomb.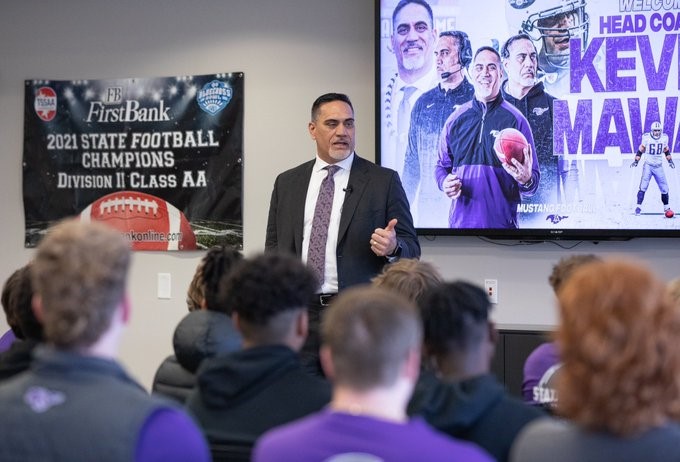 Last year, the Mustangs finished undefeated and ranked No. 13 in the High School Football America 100 national rankings, powered by NFL Play Football.
Related: See the final High School Football America 100 rankings of the 2022 season
Dilfer departs to become the head coach at the University of Alabama-Birmingham. His replacement at Lipscomb is stepping in to his first high school head coaching job — but also brings a wealth of NFL experience to the table.
Mawae was selected in the second round of the 1994 NFL Draft by the Seattle Seahawks. He spent 16 years in the NFL for the Seattle Seahawks, New York Jets, and Tennessee Titans. Mawae earned eight Pro Bowl selections, including six straight from 1999 to 2004, and three First-Team All-Pro nods. In 2019, Mawae was inducted into the Pro Football Hall of Fame.
As a coach, Mawae served as an Indianapolis Colts assistant since 2021, and has also been an assistant with the Chicago Bears and at Arizona State.
Featured Photo: AP/Ben Liebenberg
Tags
Coaching
NFL Players and Legends
High School Football