Where the 2023 Pro Football Hall of Fame Class Played High School Football
Eight NFL Legends and one coach were inducted into the Pro Football Hall of Fame as part of the Class of 2023 in Canton, Ohio on August 5.
The newest enshrinees bring the total number of Pro Football Hall of Famers to 371.
To celebrate the 2023 class, High School Football America is highlighting their high school football careers.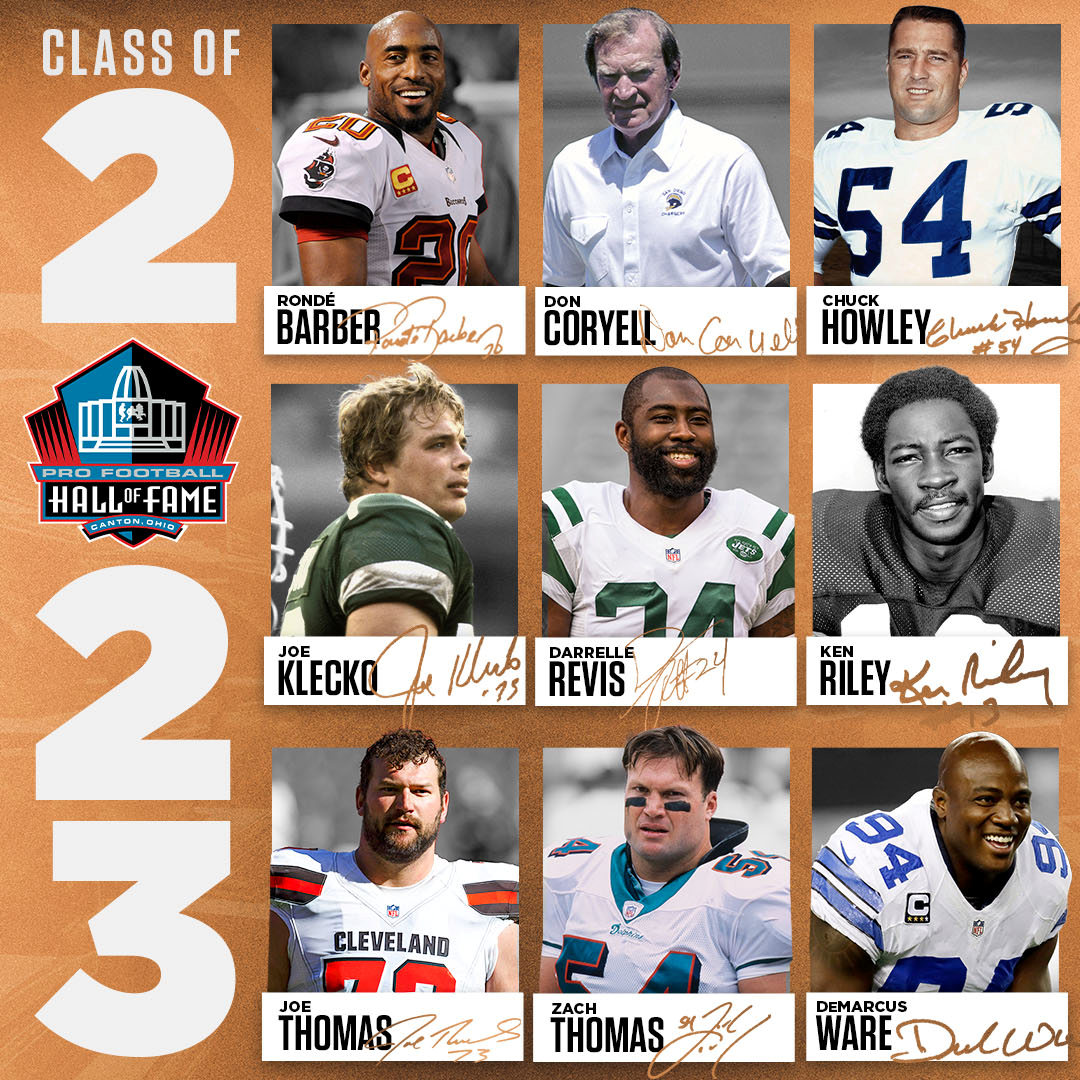 Ronde Barber, DB – Cave Spring (Virginia)
Defensive Back — 1997-2012 Tampa Bay Buccaneers
Barber was a three-sport athlete at Cave Spring in Virginia. In addition to football, he wrestled and was a part of the track team.
During his junior year, Barber made Virginia AAA All-State Team, along with Bethel High School's Allen Iverson, a member of the Naismith Memorial Basketball Hall of Fame.
While his senior football season was cut short by a broken clavicle, Barber finished his scholastic career by becoming a state and national track champ in the 55-meter hurdles.
Don Coryell – Lincoln HS (Washington)
Coach — 1973-1977 St. Louis Cardinals, 1978-1986 San Diego Chargers
Coryell was a quarterback and tennis player at Lincoln High in Washington. He was named honorable mention All-City during his time at the Seattle school.
Coryell's second coaching job was at Punahou in Hawaii. He was an assistant there in 1951, before becoming the head coach at Farrington High School for one year in 1952.
Chuck Howley – Warwood HS (West Virginia)
Linebacker — 1958-1959 Chicago Bears, 1960-1973 Dallas Cowboys
Howley was a three-sport athlete (basketball, football, track) at Warwood High (Class of 1954) in West Virginia. He was an all-state football player after transferring from Wheeling Central to Warwood.
During his time at West Virginia University, he lettered in five different sports — track, swimming, gymnastics, wrestling and football.
Joe Klecko – St. James HS (Pennsylvania)
Defensive End and Tackle — 1977-1987 New York Jets, 1988 Indianapolis Colts
Klecko was cut as a high school freshman and didn't return to the field until his senior season at St. James in Chester, Pennsylvania. According to the Delaware County Daily Times, Klecko was a "bench-warmer" for the first games of his high school career.
He was named honorable mention on the All-Delco (Delaware County) Team.
Darrelle Revis – Aliquippa HS (Pennsylvania)
Cornerback — 2007-2012/2015-16 New York Jets, 2013 Tampa Bay Buccaneers, 2014 New England Patriots, 2017 Kansas City Chiefs
Revis closed out his scholastic career with an incredible performance in the Pennsylvania AA championship game, leading Aliquippa to a come-from-behind 32-27. Revis scored all five touchdowns for Aliquippa — three rushing scores, a kickoff return, and a blocked field goal attempt return. His final trip to the end zone was the game-winning 64-yard touchdown run in the fourth quarter.
Revis was also unstoppable on the basketball court, averaging 25.2 points a game during his senior season.
Ken Riley – Union Academy (Florida)
Cornerback — 1969-1983 Cincinnati Bengals
Riley played defensive back and quarterback for legendary high school coach Chaude Woodruff at Union Academy in Bartow, Florida. Riley was a captain of the school's football, basketball and track teams, and was elected class president during his senior year.
The Union Academy football program produced seven NFL players before it closed in 1969. Along with Riley, those players included guard Jim Battle, defensive back Nate James, defensive back Al Lavan, defensive tackle Sam Silas, wide receiver Jerry Simmons and guard Don Smith.
Joe Thomas – Brookfield Central HS (Wisconsin)
Tackle — 2007-2017 Cleveland Browns
During his high school days, Thomas played many positions aside from offense tackle. On offense, he was a tight end and fullback at different points in his career. On defense, he was a standout defensive end who won the Wisconsin Football Coaches Association's Defensive Player of the Year after his senior season. He recorded 12 sacks in his final high school season.
Considered the No. 3 prospect in Wisconsin, Thomas played in the U.S. Army All-American Bowl.
Thomas was a four-year letterwinner in track and field in the shot put and discus.
Zach Thomas – Pampa HS (Texas)
Linebacker — 1996-2007 Miami Dolphins, 2008 Dallas Cowboys
Zach and his brother Bart led White Deer High School to a 1A state title in 1998 before transferring to Pampa High School.
Thomas closed out his high school career as a two-time All-State linebacker. During his senior season, he ran for 928 yards with eight touchdowns on offense and recorded 158 tackles (59 solo) with six sacks, five forced fumbles, three recoveries and eight deflected passes on defense.
DeMarcus Ware – Auburn HS (Alabama)
Linebacker — 2005-2013 Dallas Cowboys, 2014-2016 Denver Broncos
At Auburn High School, Ware was a linebacker and wide receiver. He was named the Tigers Most Outstanding Player at both positions. On defense, he racked up 40 solo tackles with seven sacks.
Tags
NFL Players and Legends
High School Football